As iron sharpens iron, so one person sharpens another.
Proverbs 27:17 NIV
A Message from Anointed Messenger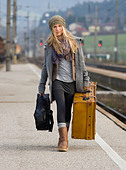 I have a dear loved one that frequently urges me to come visit her. Like most of us would, she did a very thorough housecleaning in preparation of my visit. Don't we all want our homes in tiptop shape when we have guests? However when I arrived in her beautiful home, it wasn't five or ten minutes before she was bothered by my luggage. My two large bags were something of an eyesore in her otherwise immaculate home. She wanted me to get them out of sight, but where were they going to go? I brought big bags because I was invited to stay for a long visit, and I needed the bags because… well, my stuff was in there. This happened several times until in frustration I exclaimed "I can't come without baggage; we're a package deal."
Thank God my loved one doesn't do that anymore, but it was a reminder that people come with baggage. We eagerly embrace the positive attributes of people in our lives, but we don't want to deal with their faults, weaknesses, or any traits/issues that clash with our sensibilities. Just as I travel with luggage, people come to a relationship with their history, their past relationships, and their faults and weaknesses. I'm not suggesting we should embrace areas where people have refused to receive God's deliverance. I'm recognizing we're all imperfect people who require mercy and patience. When we invite others into our lives we must also accommodate their "stuff".
How many people prayed for a spouse but were ill-prepared and unwilling to deal with that person's issues? How many ministers prayed for a ministry where they could change lives but then became fed up because the people were difficult? How many friendships have ended due to impatience and an unwillingness to compromise? God's Beloved remember that every person God brings into your life is a blessing in some way. Show them the kind of tolerance and compassion that you would like someone to show you. Every relationship is an opportunity to grow, to learn, and to die to self.
Father I invite You to be Lord over my relationships. Help me make room for the people that You bring into my life. Help me remember that every relationship requires understanding, adaptation, and accommodation. Give me wisdom to know when to show tolerance and when to confront another in love. Remind me that learning how to deal with difficult people makes me a better person.
Be blessed by this teaching from Graham Cooke on relationships:
The second most important commandment is this: 'Love your neighbor as you love yourself.' There is no other commandment more important than these two."
Mark 12:31 The Voice